Estrella Castillo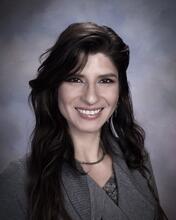 Research Areas:
Indigenous science and technology studies; the de-/anti-colonial turn; critical methodologies; ritual heuristics; histories of psychedelics; sixteenth to twenty-first-century North American anthropology and Indigenous religious solidarities
Estrella (she/her) is a 3rd-year Ph.D. student in the History of Science and Medicine and a 2021 fellow with the Center for Race, Indigeneity, and Transnational Migration. Engaging theories and questions concerning spirituality and materiality, complex temporality, and ethics in ethnographic and historical research, Estrella investigates how the peyote–a cactus endemic to Mexico–has served as a boundary object/subject/being in North American Indigenous Earth, religious, health, and remembrance praxes and in the development of the "psychedelic" as a biomedical phenomenon.
Before coming to Yale, Estrella graduated magna cum laude from Columbia University (CU, GS '19) with a B.A. in Anthropology (sociocultural track) and gained an A.A. in Sociology ('19) from San Diego City College.  Her B.A. culminated in a senior thesis entitled: "Perpetuating Peyote: Cactus-Based Faith, Medicine, and Knowledge Production"–an ethnography pulling from environmental anthropology, critical Indigenous studies, and primary in-depth interviews with Indigenous scientists and ceremonial knowledge-keepers.
Estrella has worked with interlocutors of various healing systems throughout her studies and community organizing, integrating spiritual learnings into her methodologies, rhetorical style, and daily life.
Extracurriculars: Research Assistant, Life Worth Living, Yale Center for Faith and Culture (Part-time Teaching Instructor in the program beginning January 2023); Member, History Department Graduate Student Advisory Committee; Member, History Department Diversity Committee; Co-Founder, BIPOC Graduate Collective; interfaith activist and neplantera.