Miriam Rich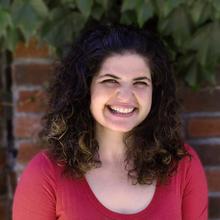 Lecturer in the History of Medicine
Office:
Sterling Hall of Medicine, Room L-218
Address:
333 Cedar Street, New Haven, CT 06510
Research Areas:
History of U.S. medicine, biology, and public health; race, gender, and biomedicine; reproduction and reproductive health; pain, bodies, and disability; citizenship and healthcare; medical ethics
Miriam Rich is a historian of medicine and biology in the United States. Her work focuses on the social and political meanings of health and bodies within historical systems of race, gender, and citizenship. Her research and teaching interests include the history of reproductive health; medical and scientific concepts of race, sex, and disability; the experience and treatment of pain; healthcare and public health policy; and medical ethics.
Her current book project, "Monstrous Births: Race and Defective Reproduction in U.S. Medical Science," examines how the biological category of the "monster" was entwined with developing concepts of race, gender, and bodily deviance in the 19th- and 20th-century United States. The project explores how the monstrosity of anomalous bodies was constituted and made meaningful within different arenas of medical and scientific activity, including relational experiences of childbearing, material processes of anatomical specimen preparation, and the production and circulation of scientific knowledge. In these contexts, the monstrous body came to mediate between social and biological meanings of human difference and relation, linking and concretizing powerful discourses of race and reproduction in U.S. history.
Miriam Rich has also written about the racialization of pain in 19th-century obstetrics, the use of racial categories in 20th- and 21st-century genetics and genomics, and the sociopolitical contexts of vaccination policies in the 20th-century U.S., and has previously co-authored biological research in behavioral ecology. At Yale, she teaches courses on the history of health and incarceration; the history of reproductive health and medicine; and the history of public health, race, and citizenship in the United States.
PUBLICATIONS
Rich, Miriam. "The Curse of Civilised Woman: Race, Gender and the Pain of Childbirth in Nineteenth-Century American Medicine." Gender & History 28(1): 59-78 (2016). https://doi.org/10.1111/1468-0424.12177
Rich, Miriam. Essay review of Genetics and the Unsettled Past: The Collision of DNA, Race, and History (eds. Keith Wailoo, Alondra Nelson, Catherine Lee) and Race and the Genetic Revolution: Science, Myth, and Culture (eds. Sheldon Krimsky and Kathleen Sloan). New Genetics & Society 34(4): 449-453 (2015). https://doi.org/10.1080/14636778.2014.940454
Rich, Miriam. "The Discontinuation of Routine Smallpox Vaccination in the United States, 1960-1976: An Unlikely Affirmation of Biomedical Hegemony." Revista Ciência & Saúde Coletiva 16(2): 471-77 (2011).
https://dx.doi.org/10.1590/S1413-81232011000200010
Cain, Kristal, Miriam Rich, Krystle Ainsworth, and Ellen Ketterson. "Two Sides of the Same Coin? Consistency in Aggression to Conspecifics and Predators in a Female Songbird." Ethology 117(9): 786-795 (2011).
https://doi.org/10.1111/j.1439-0310.2011.01932.x
EDUCATION:
Harvard University, Ph.D. in History of Science (2019)
Harvard University, M.A. in History of Science
Swarthmore College, B.A. (Highest Honors) in History and Biology