J. Cecilia Cárdenas-Navia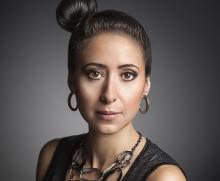 Research Areas:
Historical and sociocultural studies of the sciences, biomedicine, and technology; science fiction studies; kinship, blood, nationality, and family; boundary objects; scientific constructions of sexuality, sex, and gender; human difference; museology
Yale College, BA; University of Cambridge, MPhil; Yale University, MA, MPhil
J. Cecilia Cárdenas-Navia is a PhD candidate in the History of Science and Medicine at Yale University.  She earned a BA in the History of Science and Medicine and Ethnicity, Race, and Migration from Yale College and an MPhil in the History and Philosophy of Science at Darwin College from the University of Cambridge.  A former National Science Foundation Graduate Research Fellow, Cecilia writes at the crossroads of the history of science and cultural studies.  
Her dissertation, tentatively entitled "Color Struck: The Sciences of Skin Color and the Formation of Identity in America," traces the scientific, sociocultural, political, and aesthetic lives of melanin in the United States from the 1950s to the present.  The rise of this new era – what she terms the melanin era – allowed for diverse interpretations of skin color against a backdrop of tumultuous social change and new scientific / biomedical inquiries.  From Black Power to Michael Jackson, Ray Bradbury's The Martian Chronicles to melanin supremacy, her study offers alternate frameworks for discerning human difference and disentangling "race," biology, ancestry, and culture.  Ultimately it aims to emancipate skin color from its troubled past, lending to new understandings of the long civil rights movement, the genomic age, and the struggles that remain.
Her future projects include: an historical investigation into the mythology of sexual dimorphism between male and female brains; and an examination of the intersection of the sciences, spirituality, and theology in the twentieth and twenty-first centuries.
Field(s) of Interest:  Historical and Sociocultural Studies of the Sciences, Biomedicine, and Technology; Science Fiction Studies; Kinship, Blood, Nationality, and Family; Boundary Objects; Scientific Constructions of Sexuality, Sex, and Gender; Human Difference; Sciences and Spirituality; and Museology.