Chitra Ramalingam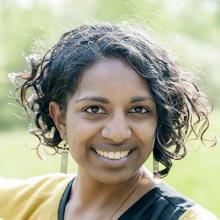 Lecturer, HSHM and History, Senior Project Director HSHM 2022-2023
Address:
320 York St, New Haven, CT 06511
Research Areas:
History and theory of photography, cultural history of the physical sciences (18th-century to the present), science and visual culture, visual studies, material culture studies, modern British history, science and empire, museum studies
Video:
Chitra Ramalingam is a museum professional and academic working between history of science, history of photography, and museum studies. Her research has focused on science in 19th- and early 20th-century Britain and its empire, and on the early history of photography and its relation to the sciences. She has worked with and in science museums, natural history museums, special collections libraries, and art museums, most recently as curator of photography at the Yale Center for British Art from 2017-2021. As a scholar and academic, she has taught in history of science programs, history of art programs, and history departments in the US and the UK. Her courses at Yale focus on the visual and material culture of modern science, and on the laboratory and the museum as sites of knowing. She is also the area advisor for Museums and Collections in the program for
Public Humanities at Yale
.
Her ongoing research project, A British Mineralogy, which includes a collaboration with Indian artist Garima Gupta, explores the histories and layered geographies of mineral specimens in Yale's Peabody Museum of Natural History and in British natural history collections, inspired and provoked by naturalist and artist James Sowerby's illustrated British Mineralogy (1804-1817) and Exotic Mineralogy (1811). She is co-editor with Mirjam  Brusius of
William Henry Fox Talbot: Beyond Photography
(Yale University Press, 2013), and co-curator with Hope Kingsley of
Salt and Silver: Early Photography, 1840 – 1860
(Yale Center for British Art, 2018). At the Yale Center for British Art she also curated exhibitions on antiquarianism and architectural photography, and on social portraiture in post-1945 British photography. She is also co-editor with Henry Cowles of the
Essays and Reviews
section of the journal Historical Studies in the Natural Sciences (see special sections on
Pandemic Subjects
, Feb 2021;
How to Be an Expert
, Feb 2022; Dilemmas of Archival Objectivity, in press for Feb 2023) , and a member of the editorial collective for
100 Histories of 100 Worlds in 1 Object
,  a dynamic, collaborative project centering excluded voices and histories around objects from the Global South in the British Museum.
As of January 2023, she is the new Director of Academic Engagement at the Guggenheim Museum, where she is helping to build new museum-based programs for multidisciplinary learning and research.
Selected publiations:
William Henry Fox Talbot: Beyond Photography (co-editor, with Mirjam Brusius and Katrina Dean), Yale University Press, 2013.

"Co-Laboring [Photographic Putti]," in Collaboration: A Potential History of Photography, ed. Ariella Azoulay et al (Thames & Hudson, 2023).

"[Photography and] Science," in The Art Institute of Chicago Field Guide to Photography and Media, eds. Antawan Byrd and Elizabeth Siegel (Art Institute of Chicago, in press, March 2023.)

"The Italian origins of British photography?" in Photographs of Italy and the British Imagination, 1840–1914 , ed. Antonella Pelizzari and Scott Wilcox (Yale University Press, 2022).
Education
Harvard University, PhD in History of Science
Cambridge University, MPhil in History and Philosophy of Science
Harvard University, BA in Physics and Philosophy
Courses Taught
Photography and the Sciences

Laboratory Life

History and Material Culture

History and Theory of Museums

Nature and the Modern Museum