Caitlin Kossmann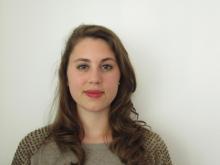 Research Areas:
twentieth-century environmental and planetary science, history of biology, scientific community, scientific myth and metaphor, material culture studies, gender and science, feminist STS, Anthropocene discourse
Caitlin's research focuses on the history of ecology, planetary science, and biology in the late twentieth-century through the lens of the Gaia hypothesis. Her work situates Gaia in histories of late Cold War science, the boundary work between scientific disciplines as well as between science and public discourse, evolutionary biology, female personifications of nature and their relationship to women in science, and efforts toward "theories of everything" as a mode of scientific and political myth-making. Her work engages with feminist STS and philosophy of science as well as material culture studies and questions of the relationship between the (often-gendered) boundary-making between craft and science. She is also interested in museums and teaching/learning from objects, and has volunteered with several collections including at the Harvard Museum of Natural History and the Yale Peabody Collection of History of Science and Technology. 
Caitlin is originally from New Mexico. She received a BA in ecology and evolutionary biology with minors in creative writing and astrobiology at Princeton University in 2014.