Barbara Pohl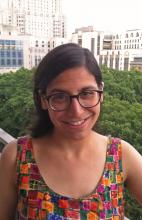 Research Areas:
history of the American human sciences; history of gender and sexuality; history of capitalism; feminist philosophy and science studies
Barbara Pohl is a PhD candidate in the history of science and medicine at Yale University. She is interested in cultural and political developments within the modern human sciences. Her research examines a network of feminist intellectuals who straddle the fields of anthropology, psychology, philosophy, psychiatry, and literature during the Gilded Age and Progressive Era (1880-1920). Within her historical scholarship, she aspires to build upon the critical methods of feminist philosophy, science and technology studies, and queer theory.
Her research project grew out of her own experiences with bioethics and with the cultural studies of science and medicine. Barbara received her B.A. with honors in the Science in Society Program from Wesleyan University in 2011. She then received an M.A. in Bioethics from New York University in 2012. She served as a research assistant with the Division of Medical Ethics at Weill Cornell Medical College until 2014.