Barbara Pohl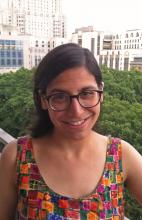 Research Areas:
history of American medicine and public health; history of bioethics in the nineteenth and twentieth centuries; history of capitalism
Barbara Pohl studies the history of medicine, public health, and bioethics in the United States during the nineteenth and twentieth centuries. She seeks to explore the economic dimensions of medical practice, especially as they relate to charity and social work.
This research interest grew out of her own experiences with bioethics and with the cultural studies of science and medicine. Barbara received her B.A. with honors in the Science in Society Program from Wesleyan University in 2011. She then received an M.A. in Bioethics from New York University in 2012 and served as a research assistant with the Division of Medical Ethics at Weill Cornell Medical College until 2014.