Angelica Clayton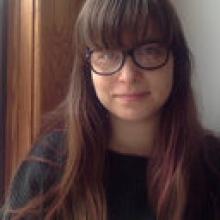 Research Areas:
History of 20th century science; history of technology; history of computing; history of cognitive science; history of psychiatry; material epistemology
Angelica studies the intersection between the computing sciences and the cognitive sciences in the mid-twentieth century. Specifically she has done research on the life and work of Alan Turing and Ludwig Wittgenstein in the 1930s and the history of the Turing machine as a scientific, immaterial and metaphorical object. She currently is working on the influence of cybernetics and logical mathematics on trauma research in the mid-twentieth century and a history of language-systems as a model for the mind. 
Angelica was raised in Seattle, Washington before attending high school in New Hampshire. Before arriving at Yale, she obtained a B.A. in history of science from Harvard University where she also did some work in the psychology of language development.