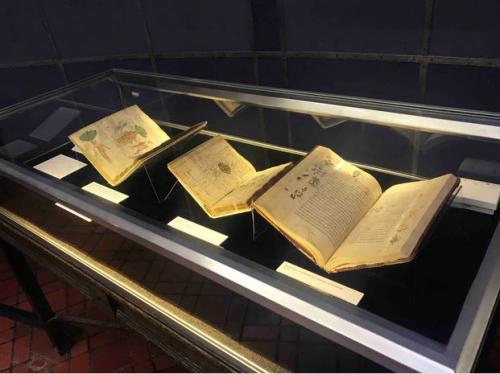 Sophia Nam, April 3, 2018 - A black mortar and pestle decorated with a crucifixion scene; hand-painted glass bottles, containing substances like castor oil. These were two of the many artifacts featured in a new exhibition, titled "The Early Modern Pharmacy: Drugs, Recipes, and Apothecaries, 1500-1800" at Cushing/Whitney Medical Library.
The exhibition opened on Monday, drawing 25 visitors, and was assembled in part by Yale undergraduates in history professor Paola Bertucci's seminar, "Collecting Nature and Art in the Preindustrial World."
Visitors walking into the opening reception were greeted by note cards featuring 17th-century medical recipes to take home. The recipes offered possible remedies ranging from a treatment "to cure deafness" and "a good medicine for a stinking breath." Visitors were also offered loose leaf tea blends and Oaxacan-style stone-ground chocolate, which were both used as ingredients in medicine in the early modern period.
Bertucci, who delivered the opening remarks, explained that the purpose of the exhibition is to explore both medicine and the history of collecting. Although modern medicine is often thought of as the compilation of scientific knowledge, early modern pharmacies also emphasized the importance of collection and display, said students in the seminar, which is being offered this semester.
"This exhibition explores the division between nature and art, and whether it's really as distinct as we think it is," said Jordan Cutler-Tietjen '20, a student in the seminar.
Among other pieces, the exhibition features medical indices, beautifully illustrated manuscripts known as herbals and prints depicting European apothecaries. All the pieces in the exhibition come from the medical historical library and were handpicked by the students in Bertucci's class as part of their midterm project.
To read the full article click here