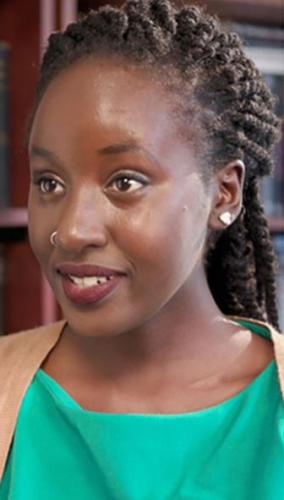 Before President Peter Salovey embarked on his inaugural trip to Africa during spring break, YaleNews took the opportunity to chat with three students from the two countries he will visit: Kenya and Ghana. The president's trip takes place in the fifth year of the Yale Africa Initiative, a university-wide effort to promote African scholarship, research at Yale and on the African continent, partnerships with African institutions, career opportunities for Yale students across Africa, and to attract the best and brightest African students to campus.
Yale currently has more than 100 students and 50 scholars from Africa, and Yale faculty members are participating in more than 150 research projects on the continent. The university has also supported international learning and travel experiences for Yale College students across Africa.
 What follows are edited conversations with the three African students.
Faith Chumo '20 (Nairobi, Kenya)
Why did you choose Yale?
I chose Yale because I had heard about the African Student Association and I was drawn to it and to the Afro-American Cultural Center. I thought that I would feel at home. My parents had never heard of Yale. I went to a high school that didn't educate us a lot about American colleges, and I was supposed to go to school in the United Kingdom. But I ended up choosing [to apply to] American colleges because I was unsure about my career choices. I wanted to have a bit more freedom to pursue a liberal arts education, as opposed to in the U.K., where you come in knowing exactly what you want to do. So I chose Yale just because it was a good thing. And when you're blessed with a good thing you take it and you see where it takes you!
What is your major, and what drew you to it?
I'm currently a double major in the history of science, medicine and public health, and in women's, gender, and sexuality studies. I am very much interested in public health. I've interned in hospitals and I was a first-aider [certified in first aid] when I was in high school. I've always been interested in medicine, and I'd like to learn about the history and the business and social aspects of medicine as opposed to just studying the sciences. I felt that studying the history of science and medicine and public health would give me broader knowledge.
Women's, gender, and sexuality studies just gives me life, because I needed something to keep me happy and motivated. Not that science doesn't do that, too!
What are you most passionate about?
I'm very passionate about feminism and women's empowerment, particularly when it comes to women of color because of how many years they have been subdued and have been at the lowest of ranks when it comes to who matters in this world. Joining Yale as a woman of color meant a lot to me, and it meant even more when I came to America, where things like racism exist. Back home your skin color doesn't matter because you look like everyone, but here, sometimes people can make you feel that you are lucky to be here or that you don't really deserve to be here. Every time I'm in a STEM class and I see another woman of color, I try my best to interact with her and encourage her and let her know that she belongs here just as much as I do!
What extracurricular activities are you involved in, and what do you enjoy about them?
Being vice president of the African Students Association is thrilling and so exciting — it's a position where I can help people realize what their opportunities are and how to take advantage of them. It's a space where I feel I belong — where my accent isn't foreign and where the different things I do aren't foreign. So that's one of the things that I really, really enjoy.
I've also recently enjoyed doing research with Dr. Christine Ngaruiya, assistant professor in the Department of Emergency Medicine. We're working on a systematic review of non-communicable diseases in Africa. When you think about Africa, you think of Ebola or malaria and all those communicable diseases, and no one thinks about cancer and diabetes and respiratory diseases, which are the focus of her research.
I also work with Yale Hospitality as a student marketer and I really enjoy this because I get to go to the different events. One of the skills requirements listed in the job description is that you have to be a photographer. I had no idea how to use a camera, but I just asked people who have handled cameras before and now I'm pretty good at taking pictures. Photography has become a huge passion of mine.
In my first year of college I joined Dzana, Yale's only Afrobeats dance group. [The group] dances to African music and Caribbean music and Western music that's a remix with an African beat. The group is predominantly African or African American, but we do have new members who don't fit that description, and that's what we love about it — that we can invite all people to celebrate African and African-American culture. Unfortunately, I left the group because I didn't have enough time to rehearse and choreograph dances. But it was a great time. I really miss it.
What challenges have you faced as an international student?
I would say microaggression, and just noticing that you're different — going to classes and seeing that most of the people in your chemistry class or in other STEM departments don't look like you. It's hard. Also, the American education system is very different, more academically rigorous, and in some areas of science, I wasn't as well prepared as some of my peers.
One of my best memories from freshman year is of meeting my immunology professor, Paula Kavathas. Whenever she noticed that girls in class wouldn't speak as much as the guys she would gather us and tell us, "Listen you have to talk and you have to participate more and hand in your essays on time. We need to do better as women." She would always give us pep talks, and I'll never forget her for encouraging me like that. I'm so in love with all the women in STEM at Yale because they represent power and possibilities for me and my daughters and my daughters' daughters.
Finally, American students are also familiar with conversations about issues like sexual consent, sexual assault, and mental health, which are things that aren't really discussed back home. Since most African students aren't exposed to these discussions, we aren't upon arriving here as prepared to participate in those conversations.
What are your plans for the future?
I am thinking about applying to medical school. I still haven't figured out whether that's truly what I want to do. This summer will be dedicated to committing [to that plan] or writing it off completely. I will be applying to programs like Doctors Without Borders. I'm taking a class with Nicholas Alipui [senior fellow and lecturer at The MacMillan Center], who worked with UNICEF, and he promised that we would get internships with UNICEF if our project proposals for sustainable development goals are good enough. Hopefully in the summer I can do that and decide whether I want to practice medicine or go into public health.
Besides that, I definitely want to improve my writing. The current writing class that I'm taking, English 120 taught by Angus Ledingham, has so far been my favorite experience ever.
So I definitely look forward to writing and blogging and photography and all these things that I didn't think were amazing or important when I was growing up. [Chumo has a personal blog.]
Name one thing you love about your home country.
I love the food!
I like ugali, which is maize flour and water. You just mix it up and it's like a pasty white dough. It's a bit bland but I really miss it. I like our tea. It's excellent. The third thing I would say is our culture: music and speaking the Swahili language. Sorry, there is just too much to love about Kenya!
To read the full article click here!