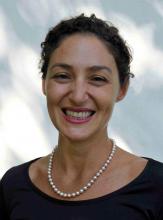 Barbara Di Gennaro Wins Annals of Science Prize for 2015
Barbara Di Gennaro Splendore (History, History of Science and Medicine) has won the Annals of Science Prize for 2015 for her essay, "Being an Apothecary in 16th Century Bologna: Money, Expertise, and Mercy." Annals of Science is a British-based, peer-reviewed academic journal covering the history of science and technology.
The essay explores the roles apothecaries played as retail merchants, skilled artisans, and healers who often had a close relationship with their customers. Some of them also brought a religious vocation to their work. In the sixteenth century, the government of Bologna took new interest in medical matters, challenging the apothecaries' place in society. New regulations restricted their freedoms, and they responded by asserting their importance.
A version of this article won the 2015 Jerry Stannard Memorial Award for the History of Pharmacy. The Stannard prize is given by the Department of History at the University of Kansas.
Di Gennaro was born in Naples and earned her undergraduate degree at the University of Bologna in early modern history. She then worked in Italy as an editor of history textbooks before coming to Yale in 2014 to realize a long-held dream.
"Doing a PhD had always been my desire, but I put it aside when I started a career in publishing," she says. "When I finally decided to leave publishing and go back to historical research, I started to research apothecaries in sixteenth-century Bologna. I have always been very interested in medicine and in how people consider their health and bodies, and their relationship with medicines."
Di Gennaro plans to write her dissertation about theriac, a drug widely used from ancient times until about 1700, when it fell into disuse.
"Theriac had a very long list of ingredients, the most curious of which was probably viper's flesh," she says. It was compounded in public ceremonies that lasted up to ten days, and "there was quite a market for it all over Europe and the Middle East."
Her advisers are Paola Bertucci and Francesca Trivellato.
Di Gennaro came to the U.S. with her husband, Antonio Barocci, who teaches Italian at Gateway College, and their children. "His decision to move our family to New Haven, leaving his job as an Italian literature teacher in Italy, was very generous. We thought it could be a good experience for our children, as well." Their son Neri and daughter Mira go to Worthington Hooker School, where they are quickly learning English.