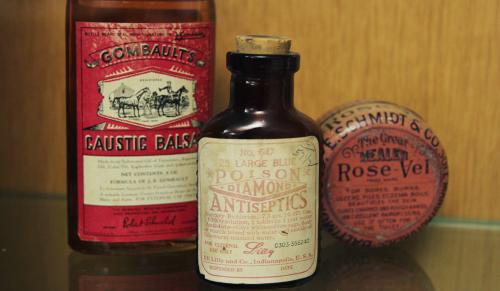 Eliza Smith was a housewife and best-selling author, whose book, "The Compleat Housewife," is filled with more than 300 recipes for cordials, roasts, pickling — and how to cure the bite of a mad dog.
Smith's book, which was published in 1727 and is equal parts medical cures and food recipes, is part of a student exhibit "The Early Modern Pharmacy: Drugs, Recipes, and Apothecaries, 1500-1800." The exhibit, which is on display through July 5 at the Harvey Cushing/John Hay Whitney Medical Library, 333 Cedar Street, was designed by undergraduate students as their midterm exam in Paola Bertucci's course "Collecting Nature and Art in the Preindustrial World."
"I thought early modern pharmacy would be perfect because on the one hand it is about collecting and on the other hand it has to do with the medical world," says Bertucci, associate professor of history of medicine and of history. She has taught the course before, but for first time chose curating an exhibit as a midterm exam for this course. She conducted the preliminary work over the 2017-2018 winter break and started "digging into the archive" of the Medical Historical Library to see what kind of material was available for her students to work with.
Bertucci chose to have her students curate an exhibit because of "the amazing treasures that are kept in Yale's libraries and archives, which students often don't get to see during their time at Yale". The assignment allowed them to think about how historical artifacts, rare books and prints can be used to tell stories about the past.  She came up with a list of possible items and asked each student to pick three to research at the library and to focus on for their midterm.
Bertucci evaluated each student's work based on their written text panels as well as a blog post they were required to write. Students presented their choices to the rest of the class, and received grades based on their individual efforts on the exhibit. Bertucci, with her teaching assistant Sarah Pickman, a Ph.D. candidate in the Program in History of Science and Medicine in the Department of History; Melissa Grafe, the director of the Medical History Library; and Susan Wheeler, curator of prints and drawings, made the final selection based on the items' state of conservation and the exhibit's subthemes.
Bertucci is an early modernist who works on the history of science, technology, and medicine between 1500 and 1800. "At that time, European powers established global networks of trade and empire that transformed natural specimens into valuable collectibles. In turn, the commodification of the natural world contributed to the reorganization of the world of learning that is commonly associated to the Scientific Revolution. I thought that it would be interesting to put together a course on the history of museums before the modern museum as a public institution. I wanted to think with the students about the origins of modern scientific practices, such as collecting, cataloguing, classifying, and displaying, with a material culture focus and from this more global perspective."
Read the full article at Yale News