Jonny Bunning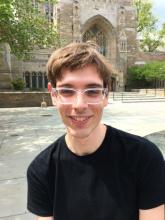 Research Areas:
History and sociology of biomedicine; history of modern Europe; political and social theory
I am interested in the intersection of biology and politics in historical context: How have questions about the nature of life and the nature of social order been resolved in different places and times, and with what consequences?
Before coming to Yale, I graduated in European Social & Political Studies from University College London with a BA (hons), First Class, and the final year sessional prize for outstanding grades, and then completed an MSc with Distinction in the sociology of biomedicine at the London School of Economics. In the year between this and coming to Yale, I worked for the Tenants' Union of New South Wales in Sydney, Australia.
When not in the library I enjoy cycling (fun), grammar books (relaxing), and coffee (stimulating).